Value-focussed project management
Waarom doe je projecten? Om op tijd en binnen budget de projectdelierable over de schutting te gooien? Om een oude set requirementes af te vinken? Klassieke projecten bouwen tegen requirements, de klant regelt de realisatie van de value die nodig was.
Waarom?
Waarom niet de gewenste toegevoegde waarde uitwerken en dat implementeren?
Wij leveren:
Management

Projecten, programma's en transformaties

Audits

Gaat het goed, kan het beter?

Workshops

Project, programma en change management: preach what you practice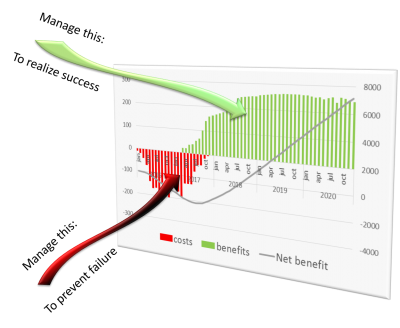 Projecten, programma's en workshops
Meer details? Kies hier!
Projecten- Ontwikkelen van producten, Agile wanneer mogelijk
Programma's- Veranderen van organisaties; of de maatschappij
Workshops- Leren: veranderen!
Op deze website delen wij onze kennis en ervaring.
Wij hebben een GeenNieuwsBrief, met inhoudelijke artikelen en tools; geen enkele reclame of aanbieding. Wel Werkboeken - uitgewerke methoden of technieken.
Onder Weblog recht uit het hart vind je naast blogs ook interessants van het web.
Wat vind je je hier verder....?
The latest
Projects create dreams. They should.

However, nothing is certain, especcialy not the future. How does uncertainty influence the structure of projects? How do you create Real Options, where management can decelerate or accelerate? What about risk exposure and reduction thereof?

Donald Reinertsen - engineer.

Master of product innovation, for me the deeper level knowledge below Project management, Agile and Lean. This is what I should have learned years ago.

You may or may not like his style, you cannot ignore his words!

Agile zoals het niet moet - handig om de top van het bedrijf te overtuigen. Vanuit Department of Defense (DoD). Fun Fact: DoD is ook de bron van Waterval :-)

Iedereen doet Agile - Binnen IT en (40%) ook daarbuiten *.Maar lukt dat allemaal wel zo lekker?

Scrum stokt....Lean blijft dik, Kanban versnelt niet. Wat gaat er mis?

Agile met een hoofdletter is een geloof - met apostelen, belijdenissen en schisma's. Zie de presentatie van Jon Terry tijdens Lean Agile Scotland 2016......

Relativerende beschouwing :-)

Implementeer Flow in een kennisorganisatie - zoals Toyota dat deed in productie.

Een uiterst compacte samenvatting van de Kanban Method van David Anderson en andy Carmichael.

Klik hier voor de officiele download.

Hoe realiseer je strategische veranderingen in je organisatie?

Wat is er voor nodig om een veelheid van projecten te beheersen zonder de daadwerkelijk door te voeren aanpassingen in Business as Usual uit het oog te verliezen?

Hoe betrek je stakeholders en gebruikers?

Managing Succesful Programs: Het stramien voor programma management van APMG. Flexibel, change-omarmend, houvast voor het sturen door de woelige wateren van organisatie-aanpassing. Geen keiharde voorschriften, themas die je in je programma toepast.

In samenwerking met Added Value Consulting bieden wij vanaf nu trainingen en workshops hierover aan.

Details volgen!

Derek Siver shows us how movements start: by the courage of the first follower!

It is not about the leader, it is the movement.

Tim Harford gives an intriguing speech on avoiding your own little God Complex.

Very useful thoughts when planning a complex program - forget the wall-sized Gantt Charts
A program brings about change in an organisation. Complex, difficult change. You need to define the program by collaborating with key people. You need to have a compelling story to tell all those involved.

How?

Simon Sineks golden circle of Why How What. Expanded for programs.

Look here for the story, download for free.

Thanks to Ad Heessels, Werk is Theater... een offical Dick-on-Youtube video.

How to reap benefit from social technologies in program management without the hassle of big implementations?

Start small, add value immediately. How?

See here!
Welkom!
Je bent kundig als je in staat bent kennis en kunde over te dragen. Dat doe ik hier. Dick van Vlooten, programma manager, trainer, Systema-specialist.
Veel plezier met deze site!
Tweets by @Dick_diCuore